Comittment to Quality:
The success of our business by being a trusted partner to our customers is achieved by the pursuit of excellence, focus on innovation and continuous improvement of the quality of our products and services.
We are committed to identifying, understanding and meeting the needs of our customers without error on a daily basis. In order to succeed in accomplishing our mission, management reviews the quality management system and its processes.
This review identifies management's commitment to continuous im
As such, we are certified to both AS9100D and ISO9001:2015.
A copy of our certificate can be downloaded here.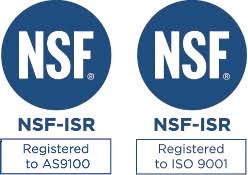 Counterfeit Components:
Carolina Microwave Associates, Inc. stringent purchasing and incoming inspection procedures assure that counterfeit components do not enter into production or our supply chain.
By utilizing DLA QPL approved suppliers, GIDEP broadcasts, material Certificates of Conformance, the AS9100D standard, SAE AS5553 and AS9120 approved distributors, Carolina Microwave mitigates the risks posed by counterfeit parts and components.